Happy May Day and here's hoping you enjoy this weekend of celebrations including honouring chimney sweeps, jumping from ancient university bridges and, of course, traditional English poledancing.
Group Ride News
A special club meeting took place on Monday where consensus was reached on how to reshape group riding activities. Thanks to all who attended. The main points were:
• We will be developing a library of favourite Avanti routes for everyone to access
• A ride leader rota for the whole club is being put together
• Richard Bingham will take on coordinating G1 rides
• Chris Dines will take on coordinating G2 rides
• There will be a clear separation in pace between G1 and G2, ensuring that G2 is accessible for stronger G3 riders
• A simple (short!) set of guidelines of club ride etiquette will be published
• Standard guidance for all club ride leaders is being prepared
• We are looking at putting short videos on the club site with respect to club riding "do's" and "dont's"
• Starting 20th May we will be introducing a monthly Introductory/New Joiners ride (Claire Clarke organising)
The idea behind the changes is not to create a lot of rules but to ensure we have consistency in our group rides that meets the needs of the majority of the club's members.
Club runs
Saturday - By the time this goes out Nick Patow and crew will have finished their coffees at Belmondo's after a nice and sunny ride around the local lanes. Hope it was good!
Sunday G1 - Marek will be leading a ride to Tulley's Farm. Meet at the G at 9am.
Sunday G2 - Chris D will be leading G2 on the same route as G1. Meet at the G at 9am.
Sunday G3 - Claire C will be leading a local ride with a stop towards the end at the Speedgate café. Meet at the G at 9:15am.
Sunday G4 - Dave B will be taking the group on a 40 miler to Hilden Park Golf Club. Meet at the G at 9:15am.
Please RSVP on the site if you are planning to join a ride.
Club Kit
The online shop will reopen on 1st May until 15th May with order delivery expected at end June. The March order delivery is expected in a few days - Marek will let people know when it's here. April orders will follow at the end of May.
Finally…
Spot the mistake in this Japanese turbo trainer advert (courtesy of Steve Rodgers)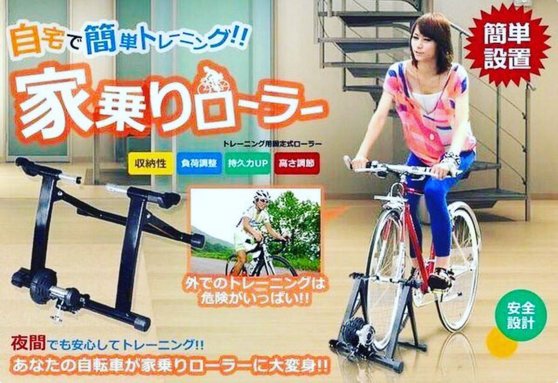 Have fun this weekend!
Richard S